Future Stars Sports Clinic of Fort Walton Beach teaches 6-13 year old kids sports fundamentals, builds character, and promotes community service.
Future Stars Sports Clinic's Mission
Future Stars Sports Clinic serves the Fort Walton Beach and surrounding communities as a tool to develop youths ages 6-13 via the powerful sport. The ultimate objective of the structured 5-week clinic, which balances fun, rigorous training and mentorship to produce a positive learning environment, is to instill in the participants self-confidence via the mastery of sports safety and fundamentals. Further still, we create an environment in which children integrate together as a team through sport, but more importantly as a community via two community service events, taking owner-ship of our society whose legacy will one day rest in their hands.
FSSC achieves these objectives via our moto that "If we believe we can, then we will" and by focusing on our 5 critical pillars of success: Practice, Teamwork, Discipline, Focus and Respect. Each clinic begins and culminates with an interactive discussion of these pillars in open ended conversations with the participants, and how they apply to life and the skills taught that day. FSSC's success is contingent upon the energy of the 25-30 person volunteer staff composed of committed citizens, military members, coaches, high school athletes, and guest speakers including collegiate and professional level athletes that interact with the youth. Transcending sports, FSSC simply utilizes sports as the canvas to bring together the community to mentor our youth, painting a future for confident individuals who believe their community is invested in them to achieve success on the field as athletes, and in life as responsible, committed citizens.
Chief Executive Officer / President
Future Stars Sports Clinic
Vice President
Future Stars Sports Clinic
Secretary / Treasurer
Future Stars Sports Clinic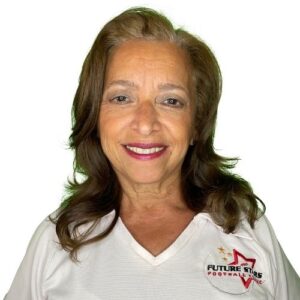 Voting Member / Administrator
Future Stars Sports Clinic
Voting Member / Security Manager
Future Stars Sports Clinic